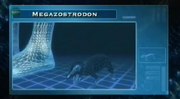 Megazostrodon was one of the first mammals of all time.
Stats

| Did it survive the mass extinction? | Yes |
| --- | --- |
In Animal Armageddon
Edit
Strangled
It was featured as one of the first true mammals with many mammalian traits such as fur and burrowing.